Mike Scott and the Hoos will try to top UNC.
After cruising to a 68-44 victory over Wake Forest on Wednesday, the Virginia Cavaliers (19-4, 6-3 ACC) travel down to the Dean Dome on Saturday afternoon. There, they will face a North Carolina squad reeling after coughing up a 10-point lead with 2 minutes remaining and losing a heartbreaker to Duke on a last second Austin Rivers 3-pointer. Can UVa pick up its second straight win in Chapel Hill, or will the Tar Heels take out their frustrations on the Cavs?
The UNC Primer follows.
1. UNC sports a 20-4 record, a No. 5 ranking in both polls, and a 7-2 mark in the ACC, which ties them for the league lead. In addition to their 1-point home loss to Duke, the Heels also dropped a 1-point game at Kentucky (73-72), lost by 10 to UNLV in Vegas (90-80), and were obliterated by Florida State in Tallahassee (90-57). UNC's most impressive ACC wins both came at home in victories over Miami (73-56) and NC State (74-55). Out of conference, the Heels' most impressive triumphs came against Michigan State on an aircraft carrier (67-55) and Wisconsin at home, a 60-57 win that will likely serve as a preview of the type of game that we'll see on Saturday.
2. Another preview can be found in last year's game, which UNC took at UVa by a score of 62-56. One player gone from last year's Carolina team is Larry Drew II, who quit the Heels about a month after the Virginia game last season and transferred to UCLA, and whom most UNC fans would claim is a case of addition by subtraction. The same can't be said about Leslie McDonald and Dexter Strickland. Both players had 7 points against Virginia last year, and both are out with torn ACLs, McDonald's coming before his season even started and Strickland tearing his in a win over Virginia Tech. Before going down, Strickland was the Heels' best perimeter defender and their fifth-leading scorer (shooting a team-leading 57% from the field), and without him, UNC is rail thin in the backcourt. And, with the announcement that P.J. Hairston can't lace them up against the Hoos on Saturday, the Heels are practically emaciated. That said, most of UNC's key players from last year are back, with backup big man Justin Knox being the Tar Heels' only other loss from last year. North Carolina currently stands at No. 8 in KenPom and No. 9 in TAPE and RPI.
3. The head coach of North Carolina is, of course, future Hall of Famer Roy Williams, who has won two national championships in his first eight seasons in Chapel Hill after a decade and a half as the main man at the Kansas. Williams loves to have his teams get out in transition offense and is the progenitor of the secondary break. I will probably get more into the X's and O's of both of these in my Primer for the home game against the Heels, but the basics are as follows: After the other team hits or misses a shot, the Heels get the ball to the point guard, who immediately looks for a ball-side outlet pass. Usually, the "2" and the "3" flash out to the right and left wings while the "4" and the "5" sprint down the middle, one trailing the other. If two or fewer defenders have gotten back, the Heels pounce and look to hit a 3-pointer or dump it down for a quick finish by a post.
Here's a look at UNC's "first wave" of transition offense from Breakthrough Basketball …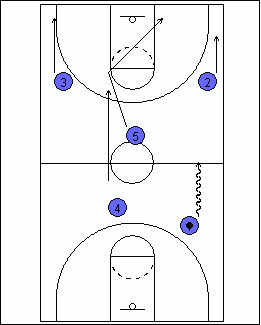 … and you can read the whole article for more detail.
UVa's defense must be good in transition.
If more than two defenders have gotten back, UNC then turns to its secondary break, usually out of a "4 out, 1 in" set. The Tar Heels' hope is that while three plus defenders are back, the defense isn't yet set, and they can exploit or use screens, ball reversals, and skip passes to create mismatches that will still allow for early 3-pointers or low post finishes. Here's a look at one iteration of the secondary break from the Coaching Bball Boards …
If neither of these attempts at early offense works as you would hope/expect with the Cavaliers' Pack-Line Defense, UNC usually turns to Dean Smith's freelance passing approach, which eschews offensive sets and instead looks to create isolation and post opportunities. But the problem with going freelance is that you never know when your next paycheck is coming. Last year, over an 8:53 stretch spanning the first and second halves, the Heels didn't hit a single field goal. And, as this article from Chapelboro makes clear, UNC's offensive efficiency under Roy Williams drastically drops once 10 seconds run off the shot clock: This season, the Heels have an offensive efficiency rating of 119.8 on shots taken in the first 10 seconds of the shot clock but only a rating of 100.5 on shots taken between seconds 11 and 35. Overall, these stats give UNC a No. 15 ranking in adjusted offensive efficiency.
4. Defensively, Williams has adopted Dean Smith's numbering system defense. Williams' teams primarily play man-to-man defense and throw a number of different looks at you, such as the "32 defense," in which UNC traps the dribble, and the "42" defense, in which the Heels trap the pass. The Heels' base package, though, is the "22 defense," a man defense in which the Heels begin applying pressure at half court. For this defense to function at its highest level, you want a point guard like Jontel Evans . The Heels don't have a Jontel type player, but they still rank No. 16 in adjusted defensive efficiency. That efficiency, however doesn't come from turning the ball over: The Heels rank a meek No. 243 in adjusted turnover percentage.
5. Starting lineup:
PG: Starting at the "1" for the Heels is No. 5 Kendall Marshall, a 6'4″, 195-pound sophomore and about as pure of a point guard as you'll ever see. His ascension to the starting spot last January greased the wheels on Drew's departure and precipitated UNC's run to the Elite 8. Marshall averages just less than 10 assists per game, good for second in the nation, and he gets his dimes through a combination of top flight court vision and the ability to thread a needle with his passes. But while Marshall is a top notch distributor, he's not much of a scorer, averaging only 6.8 points per game. Part of the problem is that Marshall isn't much of a shooter. He has an awkward release on his shot and while 44.7% shooting from the field is nothing to sneeze at, he shoots a mere 31.1% from the 3-point line and 66.7% from the line. Marshall is much better at "catch and release" than creating his own shot in part because he lacks the speed and explosiveness to shake ACC point guards and is still developing his off hand. These limitations also explain Marshall's troubles with driving and finishing in the lane, which is why he's averaging less than two free throw attempts a game. They also explain his shortcomings as a defender although he uses his size and court awareness to make up some of the difference. Last year, Marshall was still a backup when the Hoos faced the Heels, and he had 5 points and 2 assists (as well as 3 turnovers) in 16 minutes.
SG: Since Dexter Strickland went down against the Hokies, No. 35 Reggie Bullock, a 6'7″, 205-pound sophomore, has started the last five games as off guard for UNC. After missing the last nine games of his freshman campaign with a lateral meniscus tear, Bullock has looked completely healthy this year. Bullock's a shade better than his backcourt mate at creating his own shot, but his bread and butter is hitting set shots off of screens. He has a quick, high release, making him difficult to defend, especially given his size, and he's hitting on 38.9% of his 3-pointers on the year. With such accuracy, you can see why 62.5% of Bullock's shots come from behind the arc and why his 43.9% shooting percentage from the field is less important than his effective field goal percentage of 56%. Bullock's proclivity for the long ball is also explained by the fact that he's not an elite finisher around the basket. Indeed, Bullock rarely tries to drive and averages less than half a free throw a game and only 8.4 points per game. Defensively, Bullock is fast for his size and uses his length to make it difficult for smaller guards to get their shots off or snag rebounds (Bullock nabs 4.5 boards per game). Last year, Bullock had only 4 points but 5 boards against Virginia in 14 minutes.
SF: No. 40 Harrison Barnes, a 6'8″, 215-pound sophomore, mans the small forward spot for the Heels. Barnes struggled a bit with the weight of expectations and a shift to the wing during his freshman campaign, but he still played well enough to be crowned ACC Rookie of the Year. This year, he leads the Heels in shots (13.1) and points (17.7) per game and boasts a team-leading 43.7% shooting percentage from behind the arc. But unlike Bullock, Barnes is much more comfortable taking the rock to the hole. Barnes often takes it all the way to the hole and gets the hoop or the harm (5.4 free throw attempts per game), but he's also developed a devastating pull-up jumper. But Barnes runs hot and cold. He has shot 50% or better in five ACC games but 33.3% or worse in three others; he is hitting on 47.8% of his shots for the season. Even when he's 100% healthy, Barnes isn't a great defender, and, at least as of mid-December, he had the worst stop percentage of any UNC rotation player (50.6), allowing opponents to hit on 49% of 3-point attempts. And Barnes is still recovering from an ankle injury and not near 100% right now. His 25 points against the Blue Devils imply that he's not limited on the offensive end, but he gave up a lot of easy hoops and only got 3 rebounds in the loss. Last year, Barnes tallied 9 points and 3 rebounds against UVa.
PF: The Heels' starting power forward is No. 31 John Henson, a 6'11", 220-pound sophomore. Henson is a freak athlete with length to spare, but he has never filled out his frame and isn't the type of "4" that can overpower Virginia's frontcourt. Henson is also raw on the offensive end, tallying many of his 14.2 points per game in transition. Coming into this season, Henson was converting only 42.4% of his attempts in post-up possessions, and I've seen nothing this year to indicate more than marginal improvement on this front. Henson is hitting on 51.6% of his shots this year (vs. 50% last year), but most of his successful shots come from within a few feet on the basket, and his free throw shooting percentage has actually dropped from 47.9% last year to 45.5% this year. Defensively, Henson is long and explosive, allowing him to block slightly more than 3 shots and harness a shade more than 10 rebounds per game, both team highs. He is also one of UVa's few opponents this season that has the speed and defensive range to be able to give Mike Scott trouble on the perimeter. Last year, he had 7 points but only 3 rebounds against Virginia.
C: Starting at center for UNC is No. 44 Ty Zeller, a 7'0″, 250-pound senior. Zeller is less athletic but has a more complete offensive game than Henson. That game, though, doesn't extend too far from the hoop, with Zeller scoring most of his 15.6 points per game down low with some nice post moves and a near automatic baby hook. While thicker than Henson, Zeller still isn't going to overpower you, but he has nice elevation for a 7-footer and nabs almost 10 boards a game, including an even 4 rebounds on the offensive end. Zeller has hit pay dirt on 55% of his shots on the year and is an elite free throw shooting center (77.9%). Defensively, Zeller uses his height and elevation to block 1.4 shots per game, but he's lacking in lateral quickness, meaning that Akil Mitchell and Darion Atkins could give him some problems on that end of the ball. Last year, Zeller was good for 12 points and 5 rebounds in the UVa game.
Key reserves:
Guard: With McDonald, Strickland, and Hairston out, the Heels have … well … wait a second …
Freshman point guard Stillman White (4.2 minutes per game)? Senior Justin Watts (5.3 minutes per game), who played almost exclusively as a tweener "4" last season? Senior guard Patrick Crouch, who has played for no more than 1 minute in any ACC game this season? The Heels have all the depth of a Stepford Wife at the guard positions. If I had to guess, I think we'll see Watts get most of Hairston's minutes on Saturday.
Power Forward: No. 43 James McAdoo, a 6'9″, 220-pound freshman and former UVa recruit, sees 13.7 minutes of action per game for the Heels. McAdoo is another physical specimen for the Heels whose basketball skills haven't yet caught up to his athleticism. To this point, McAdoo has shown flashes of the player he one day might become, hitting midrange jumpers and scoring out of the low post. His big problems, though, have been a lack of consistency and aggression, and his production has tailed off since the start of ACC play. On the year, he's averaging 5.3 points per game on 40.7% shooting, but he's only scoring 3.4 points a game in ACC play. Defensively, McAdoo relies on his athleticism on the defensive end, where he again has been inconsistent although he has grabbed 3.5 rebounds a game in limited action.
Forward/Center: Besides McAdoo, the Heels have very little in the kitty in the way of backup posts. Their only reserve averaging 2+ minutes a game is former Virginia recruit Desmond Hubert , who might see a few token minutes against the Hoos and tally a block and a rebound but little else.
6. Sabre poster 504-C Brandon has the game as a 69-62.4 UNC win, with the Hoos having a 29% chance of winning. The Team Rankings simulation (available here) has it as a 66.4-60.1 UNC win.
I see it going the other way. Two years ago, Virginia held UNC to 60 points in a 75-60 win at Chapel Hill. Admittedly, that wasn't a vintage UNC team, but the Hoos also held last year's Elite 8 team to 62 points in a 62-56 loss at JPJ. Keep in mind, though, that UVa led that game 43-32 with 13:43 left before UNC outscored the hosts 30-13 the rest of the way with 17 of those points coming on free throws and 6 of them coming on layups. The Cavaliers were gassed. K.T. Harrell logged 34 minutes in that game. Will Sherrill played 26 minutes on one leg.
And while the Hoos are thin again this year, UNC on Saturday will be even thinner. There is no reason to believe that Virginia will collapse down the stretch. Instead, like Wisconsin earlier this year, I think UVa should be able to hold the Heels to about 60 points. The main concern I have is that UNC will own the boards a la NC State (UNC is No. 6 in adjusted offensive rebounding percentage), but the Hoos have seemed to protect the glass better in recent games.
The big question then becomes whether Virginia can score. But with Hairston out, Barnes gimpy, and the Heels completely lacking in depth, I can see the Hoos wearing the Heels down over the course of the game. In particular I expect Joe Harris to have a big game, and I can see Sammy Zeglinski breaking out of his slump against a team that can't seem to force turnovers. I don't foresee an offensive explosion, but I do think that Virginia can put enough points on the board for a 63-60 win.